open house
September 7 - 9, 2018
For 3 delightful days, all the yoga, meditation and cooking classes at NATA are free and open to the public. No reservation - just come early to claim your spot. Discover our beautiful studio, the gardens, the kitchen and all the little things you can taste there, and most of all, come meet our wonderful teachers who are always thrilled to welcome you and help you find just the right practice to suit your needs. Discounts will be offered on all of our memberships during this three day event.
More information available here.
SMMMILE festival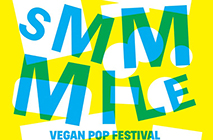 NATA will be joining the SMMMILE Vegan Pop Festival at the Parc de la Villette in Paris for 2 days of concerts, round tables, and cooking classes!
Saturday, September 15, 3:00 p.m. : Pamela will teach a cooking class on plant-based proteins
Saturday, September 15, 4:30 p.m. : Senêt will teach a cooking class on Miso in Japanese Vegan Cuisine
The cooking classes will take place in the "Jardins éphèmères" of La Villette. Free, but pre-registration required. See their webiste: http://smmmilefestival.com