thai flavors
Friday
13 2022
Bangkok à Paris
19h30 à 22h30
(180 min)
Thai cooking bursts with flavors and textures. From sweet to spicy, tangy and bitter, the dishes surprise the palate. Thai people say they are "glom glom," which basically means: "I can't stop eating!"
Come discover the key ingredients of this cuisine: lemongrass, basil, tamarind, red curry paste, peanuts and a vegan version of their famous nuoc mam sauce, usually made with fermented fish, here presented in a version made with seaweed, soy sauce and pineapple juice.
There will be rice noodles, of course, a mushroom salad and a broccoli salad. A surprise dessert will round out the meal and leave us on a sweet note.
cooking with seaweed
Saturday
21 2022
La mer dans votre assiette
10h30 à 13h30
(180 min)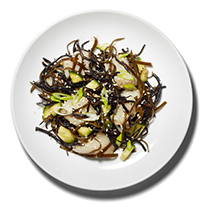 Richer in nutriments than vegetables that grow in the dirt, seaweed is great for your health. Researchers and chefs are both saying eat more seaweed!
Take a deep dive into this universe of iodium flavors and learn to choose and prepare seaweed in a vareity of recpies.