japanese noodles
Saturday
11 2023
Tout sur les soba
10h30 à 13h00
(150 min)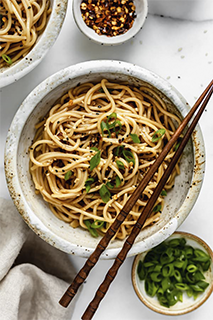 Soba is the Japanese word for buckwheat, and these noodles are both delicious and good for you.
Learn the tricks about how to cook and serve them in the traditional dashi broth, along with wakame seaweed and fried tofu.
A true culinary journey for your taste buds.
knife skills
Wednesday
15 2023
les techniques de la découpe
19h00 à 21h00
(120 min)
Mastering knife skills is essential for increasing your speed and pleasure in the kitchen.
There's a technique to learn that will boost your capacity to produce delicious, beautiful meals in no time.
The little bonus for this class: you'll go home with your pre-cut vegetables for a meal or two in the days ahead!