replacing meat
Wednesday
21 2022
19h00 à 21h00
(120 min)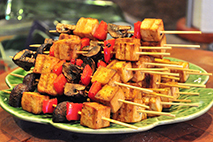 A mini-cooking class during the YogaFest !
It's well known that many yogis choose to eat less - or no - meat. Without wanting to impose this choice, we want to give you options and help you learn the tips and tricks that will make your veggie cooking so tasteful that you won't regret what's not there.
Senêt Weber, co-founder of the studio, will offer his ideas on how to fix tofu and also how to make homemade seitan so that you can bypass pre-cooked, packaged meals. 
ATTN : this class is not suitable for people who need to avoid gluten.
NATA is one of the sponsors of the YogaFest this year.