bollywood dancing
Saturday
14 2023
Atelier : Danse Bollywood
18h00 à 21h00
(180 min)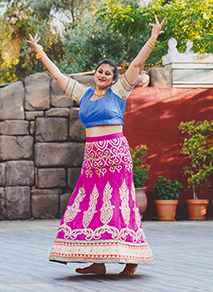 Chef : Nohmana Khalid
Let's turn NATA into a dance floor! The solar waves of India will shine this winter to mark the new year with joy and poetry.
Come dance and celebrate life with Nohmana. She will introduce you to the joy and beauty of indi-pakistani dances, using the music of Bollywood films. Immerse yourself in Indo-Pakistani culture.
After a short dance concert and the projection of a few carefully selected and commented film clips. Nohmana will lead you into the joyful expression of dance with easily reproducible movements adapted for everyone. No previous experience is necessary.
On the agenda: letting go, fits of laughter and sharing. You can even dance in one of the tunics she will bring and make available.
If you have a NATA class card, please sign up on the regular yoga schedule page to take the 3 hours from your membership card.