yoga + brunch
Sunday
4 November 2022
Pratiquez, puis mangez !
13h00 à 16h00
(180 min)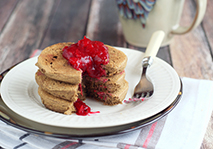 Chef : Pamela & Grégory
Pamela & Gregory invite you to an interactive yoga workshop where sharing and conviviality will be the focus.
So what would be more natural than to associate this type of practice with a shared veggie meal?
Places limited to 14 persons max.
If you have a NATA class card, book your seat via the traditional yoga schedule to have the three hours taken from your card. 
All others can register here and benefit from a reduced price when you come with at least one other person!
The menu will feature the tastes and flavors of the season to get ready for the holidays.