the miracle of miso
Saturday
27 October 2021
Votre arme de santé contre l'hiver
10h30 à 14h30
(240 min)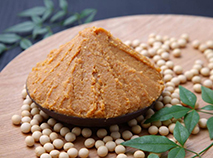 The cornerstone of Japanese cuisine, miso is a veritable miracle-worker for your health.
Come learn how to make a true, hearty miso soup (not the watery kind served in Japanese restaurants) and learn other ways to use miso in your everyday cooking.
Students will prepare a seasonal menu including appetizers, soup, salad, a main dish and a dessert.  A seated meal will be served at the end of the workshop. Wine is on the house!